This blog contains a free downloadable mortgage repayment calculator and stamp duty calculator, including affordability checks allowing you to enter your monthly outgoings.
Mortgage Rates
After the mini budget was unveiled on 23 September 2022, the value of the pound dropped to a record low against the dollar prompting mortgage providers to withdraw thousands of mortgages from the market.  Mortgage rates consequently skyrocketed, which significantly affects mortgage repayments for those whose deals are about to renew.
Average mortgage rates have now reached 6%, with the average 2-year fixed rate exceeding 6%.  So, it's really worth seeing how far your budget can stretch if your mortgage term is due to expire, and potentially evaluate how you can refine your outgoings.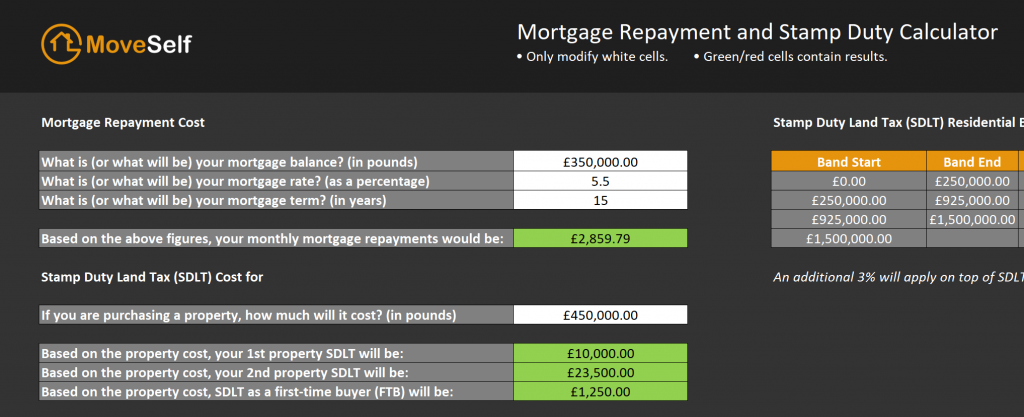 Stamp Duty Land Tax (SDLT) Rates
The government also recently made tweaks to the SDLT that we must pay when purchasing a new home.  There is no SDLT to pay on the first £250,000 of a property purchase, and this value rises for first-time buyers to £425,000.
We can use this spreadsheet to calculate SDLT costs when purchasing a home, whilst factoring in how you will raise money to fund it (Savings, parents etc).
Mortgage Repayment Calculator and Stamp Duty Calculator
You can download the Microsoft Excel mortgage repayment calculator and stamp duty calculator below.  If you do decide you can afford to move home, please consider listing your home with us.  If you notice any discrepancies or ways to improve the calculator, please comment below!
Mortgage Repayment and Stamp Duty Calculator
Download our FREE mortgage repayment and stamp duty (SDLT) calculator.